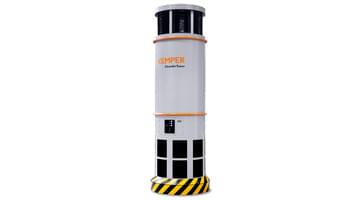 Focus on MaxiFil, MaxiFil Clean and CleanAirTower
Contamination-free dust disposal protects workers
Systems go beyond legal requirements

Vreden / Hannover, 28/08/2014 - Efficient extraction and filtration equipment for different welding situations: At the EuroBLECH Fair, KEMPER GmbH will showcase systems for optimal occupational safety to the metalworking industry. The MaxiFil, MaxiFil Clean and CleanAirTower are the three systems that will be in the spotlight at the trade fair for sheet metal processing and which the manufacturer of extraction and filtration systems from Vreden (Westphalia) has just brought onto the market. The systems are suitable for spot extraction as well as for protecting welders when fabricating large workpieces. The filtration technology even goes beyond the stricter limit values for dust introduced in April.

"In matters of occupational safety, metalworking businesses that use the KEMPER technology are already looking to safety in the long term," says Björn Kemper, Managing Director of Kemper GmbH. In his opinion, after the lowering of the legal limit for respirable fine particles in air by 60 percent from 3 mg/m³ to 1.25 mg/m³, further restrictions will only be a matter of time. "Our technology exceeds the minimum requirements."

Patent-pending SafeChange filter technology
MaxiFil, MaxiFil Clean and CleanAirTower each separate more than 99 per cent of harmful respirable particles from contaminated air. Even for ultrafine dust particles of less than 0.1 µm, the separation rate is 92 per cent.

A new contamination-free dust disposal method ensures that employees do not come into contact with the harmful particles under any circumstances. In the case of the MaxiFil, equipped with a disposable filter, KEMPER has integrated the patent-pending SafeChange filter technique. This ensures safe filter changing. In contrast, the MaxiFil Clean and CleanAirTower with their self-cleaning filters have a pollution-free dust discharge system using cartridges. "This technology, too, is completely new and unique on the market," says Kemper. This is why a patent has been applied for it as well.

Mobile or stationary: units for all applications
MaxiFil and MaxiFil Clean act directly at the source of the welding fumes. They are easily moved by hand and can be used in different positions. The 360 degree rotating exhaust hood can be perfectly positioned at the weld. The extraction arm's ease of movement makes it particularly simple to operate. Both extraction and filtering systems are also suitable for extracting the carcinogenic fumes released during welding of chromium-nickel steel.

The CleanAirTower is used in applications where capturing fumes at the source is not possible due to the nature of the workpieces, or where spot extraction needs to be supplemented. This is a ventilation system that works on the displacement ventilation principle recommended by the Professional Association. At a height of about four metres, the CleanAirTower sucks in the contaminated air. The purified air is then fed back into the factory building at low velocity from the bottom, thus avoiding air turbulence.

Minimize fire risk in occupational health and safety with KEMPER
In addition, KEMPER will also showcase its product portfolio in general. Besides cutting tables for various applications, visitors are given an insight into how central extraction and filtering systems for health and safety in welding shops or cutting tables function. KEMPER also minimizes the risk of fire with a spark trap.

KEMPER will present the different systems at the EuroBLECH Fair from 21 to 25 October. The company will showcase its products in Hall 12 at Stand B06. Appointments can be arranged in advance by telephone on 02564 - 680.