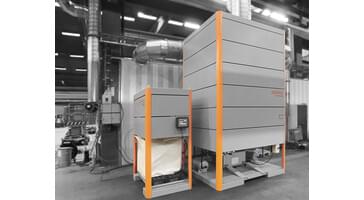 Vreden, 12th July 2016
System with extremely long filter service life
Contamination-free hazardous waste disposal with DustEvac
Company presents system during EuroBLECH
Extraction and filtration technology with long service life: Kemper GmbH presents its PlasmaFil Compact system during EuroBLECH 2016. The extraction system for combustion and plasma cutting applications has a longer service life than conventional systems thanks to an innovative plate filter technology. The stand alone solution is suitable for medium to large amounts of dust. Hazardous substances are cleaned automatically.
"This system stands out thanks to its compact design and the separation of even large amounts of fine dust during permanent operation of cutting plants," says Björn Kemper, Managing Director of KEMPER GmbH. "Metal processing companies sustainably ensure the health of their employees with this new extraction solution." Thanks to its filtration technology, PlasmaFil Compact is in a position to separate more than 99% of captured hazardous materials. The system even separates the majority of ultra fine dust particles.
Plate filter can be cleaned automatically
The integrated plate filter technology is crucial. The built-in filters not only clean the air effectively but at the same time ensure a longer service life. This means lower costs for possible filter changes and the operating costs remain predictable from the outset.
This is possible thanks to the special design of the filter, as it prevents the individual filter elements from sticking. 100 percent of filter area is always available when polluted air enters the system during the down-flow process in which the polluted air is guided from top to bottom. PlasmaFil Compact is available in six different versions - with an extraction performance from 2500 m³/h up to 11,000 m ³/h.
Optional equipment for longer service life
KEMPER recommends connecting the SparkTrap system upstream to further extend the filter service life. The park pre-separator removes spark and coarse particles already before the filtering process.
DustEvac, the optional dust disposal system, completes the hazardous material cycle. Using vacuum conveying, it transports the fine dust completely contamination-free in BigBags after self-cleaning of the filter medium. Thanks to their large capacity, these BigBags require changing infrequently even if there are large amounts of dust. "Along the entire hazardous material chain from extraction to disposal, staff do not get into contact with the dangerous fine dust at any time," emphasizes Kemper. Therefore, the risk of cancer, for which the ultra fine dust particles are mainly responsible, is effectively averted.
Needs-based operation for lower energy costs
PlasmaFil Compact can also be integrated into production if space is limited thanks to its compact design - and if necessary it can be moved easily thanks to its crane lugs. The automatic volume flow adjustment ensures that the plant regulates its own extraction performance and thus ensures energy-efficient operation.
KEMPER presents PlasmaFil Compact with the dust extraction system DustEvac and the spark pre-separator SparkTrap at the EuroBLECH tradeshow in Hanover. The manufacturer of exhaust and filter systems is exhibiting from 25th to 29th October in Hall 12 stand B06.